An extremely well written article. Seems too good. But it came a day too late!
Center for Advanced Hindsight
Every day of the year, American shoppers act irrationally. On Black Friday, however, shoppers' irrationality and wildness climb to dangerously high levels. Why does Black Friday lead shoppers to grab and fight, especially when the stakes are often as low as fifty percent off toasters?
Over the last few decades, social scientists have cataloged the many different factors that lead to irrational consumer behavior, and Black Friday touches on nearly that entire list.
Luckily though, if shoppers stay aware of how Black Friday is designed to make them irrational—and if they take breaks, eat snacks, plan ahead, and keep a clear mind—then they can avoid falling victim to the "holiday."
Here are seven reasons shoppers become so irrational and committed to deals on Black Friday, as well as a few ways you can protect yourself.
#1
Black Friday is like a hazing ritual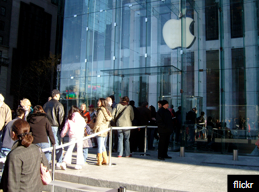 Black Friday shoppers are dedicated—they sacrifice sleep…
View original post 834 more words